Variety – the Children's Charity Asks Victorians to Show Heart for Kids in Need This Valentine's Day
08-Feb-2018 1:13 PM
This Valentine's Day, Wednesday 14 February, Variety – the Children's Charity is asking people from across Victoria to roll up and show heart for kids in need who will miss out on vital equipment without their help.
Each year the charity receives hundreds of applications from desperate families who are in urgent need of life changing equipment for their children and, without government funding, they rely on donors to help them. Thanks to the amazing support of the community, Variety has been there for these families and their children when they needed it most.
Unfortunately, in 2017 the charity received an unprecedented number of applications and there are children in desperate need of life changing equipment.
Children just like Reilly who was supported by Variety with an assistance dog.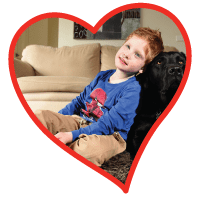 Reilly has autism and Jason the Labrador is his best friend. Jason not only provides the unconditional love only a dog can, he keeps Reilly calm when he is anxious, and keeps him safe and sound while he is out and about with family.
"We were a family in crisis before we got Jase. Having an assistance dog has meant independence, it's meant involvement and engagement in the community, it's meant doing the normal everyday things that other families take for granted," says Reilly's mum Teresa Brown, "Without a doubt it's changed our lives."
Variety CEO Janette Connolly said,
"Reilly's story shows the incredible impact that the community's generosity can have on one family's life. Before we funded his assistance dog, Reilly would get anxious. So anxious that if he was startled or overwhelmed by noise when he was out, he would run. Now, not only does Jason calm his anxiety, he also works with Reilly through tethering - sitting down when he senses Reilly is upset. For mum Teresa, this means they can finally go to the supermarket or the park as a family. Something that is otherwise impossible."
The Variety Show of Hearts Appeal launches on 14 February and will culminate in a special day on 16 March when volunteers will take over Melbourne's CBD in a sea of red collecting donations for kids in need.
You can show heart for kids like Reilly by donating online at variety.org.au/vic/heart
ENDS
Photo and interview opps available with Janette Connolly, Variety CEO, and Teresa Brown.
Contact Alicia Pentreath, Marketing and PR Coordinator, Variety – the Children's Charity
Phone 03 8698 3900 media@varietyvic.org.au